About
Reiki Home continues to develop, breathing life into the concept of a global community.
André Baptista
Alternate Member, Brazil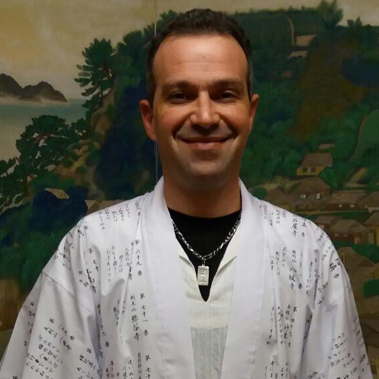 Right now the greatest joys in my life are my young daughter, Gabriela, and the project of Reiki Home.
Family has always been extremely important to me. As a ten year old, I assumed many responsibilities to support my family. When I was thirteen, my parents divorced and I was called upon to do even more for my family.
Reiki is also a family affair. My mother was a Reiki Master and it was she who initiated me in first and second degree. I have known Reiki since 1996, when I was 18 years old.
When my mother first studied Reiki, I wasn't very interested in knowing anything about it at all. I was a typical teenager; I was much more interested in girls and sports! One day I burned my hand very badly with boiling water. The pain was crazily high. My mother said. "Give me your hand and I will treat." After thirty minutes of Reiki, I felt no pain; after the treatment was finished, there wasn't even a sign of the burn. That day I recognized my mother as a healer and I became curious about Reiki.
In 1996, I was leaving on a six-month trip to the UK. My mother said, "Sit down, I need to initiate you in first degree Reiki before you leave." I agreed. I immediately felt a deep connection with the energy; it was huge! Suddenly, I realized I had the opportunity to be a healer! I wanted to be initiated into second degree immediately. My mother told me to practice. She initiated me into second degree when I returned home to Brazil.
My mother died in 2004. For a few years I felt disconnected from my Reiki practice. In 2011 my wife had thrombosis in her leg and was hospitalized for twelve days. During this time I gave her Reiki every day, 24 hours per day, and trusted it would cure her. It did. It was amazing!
This connection convinced me that Reiki is a very important part of my life; I decided to pursue mastery. After more than five years of studies and dedication to this practice, I was initiated as a Reiki Master in October 2017. At this moment I am shifting my practice as a litigating lawyer and turning my way of living through Reiki. Finally, I found the answer about why I am living in this planet and what shall I do here. The answer is Reiki Home.
"I believe my mission on earth is to heal the planet so my daughter has a better environment for her life. Reiki Home is a vehicle for accomplishing this goal. Reiki Home puts all things together for healing the planet." ~ Andre Baptista, Brazil